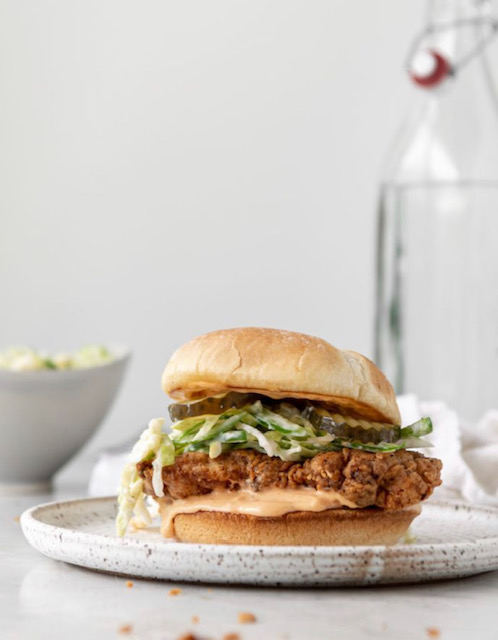 Ultimate Fried Chicken Sandwich
Who doesn't love a good classic chicken sandwich?  Well, being a chef, I will make it more than a regular chicken sandwich.   My version has a garlic aioli, kale & shallot slaw on a toasted brioche bun.  I used Springer Mountain Farms Chicken because their products are NON-GMO and American Human Certified.  Check out my recipe below for step-by-step directions and ingredients.  Click my link to sign up for emails and coupons https://www.springermountainfarms.com/southern-temptation-coupon-page?rq=Southern%20T
Enjoy! 
Ultimate Fried Chicken Sandwich w/ Kale Slaw
Prep Time: 20 minutes
Cook Time: 15 minutes
Marinating: 1-4 hours
Total Time: 45 minutes
Servings: 4 sandwiches
Kale Slaw
1/2 cup mayonnaise
1 tbsp Dijon mustard
1 garlic clove minced
1/2 lemon juiced or 1 tablespoon white wine vinegar
Salt and pepper
½ bag of Chopped Kale Salad Mix
¼ cup sliced shallots
Salt and pepper
INSTRUCTIONS
For the Kale Slaw Dressing
Mince up the garlic, and add mayo, lemon juice, and dijon, together in a bowl. Salt and Pepper to taste
Taste the kale slaw dressing and adjust the seasoning with salt and fresh cracked pepper. Refrigerate until ready to use. Peel the red onion, cut it in half, and then julienne it very thinly sliced.
Mix all the cut-up vegetables in a big bowl, and mix the kale slaw dressing in until adequately coated. Refrigerate for 20 minutes before serving.
Garlic Aioli
3 cloves garlic
Kosher salt, as needed
1 tablespoon Sunshine All Purpose Seasoning
1 cup mayonnaise
2 1/2 teaspoons fresh lemon juice
Crush the garlic cloves with the flat of a knife and remove the skin. Then mince the garlic very finely.
Add the garlic to a small bowl, season, and whisk together with mayonnaise, lemon juice, and ¼ teaspoon salt. Wrap and refrigerate for 30 minutes to allow the flavors to develop.
For The Chicken Sandwich
Ingredients
2 boneless skinless Chicken breast; cut into half.
Vegetable Oil, for deep frying
2 egg whites
1-2 tab hot sauce
1 tsp Paprika
1 tsp Salt
1 tsp (each) Onion Powder, Garlic Powder, Black Pepper, Cayenne Pepper
Breading
1 3/4 cups All Purpose Flour
2 tsp Paprika
1/2 tsp (each) Onion Powder, Garlic Powder, Cayenne Pepper
1/4 tsp Black Pepper
4 Burger Buns, toasted
sliced pickles (optional)
Instructions
In a medium-sized mixing bowl, combine egg whites, hot sauce with 1 tsp salt & paprika, 1/2 tsp onion powder, garlic powder, white pepper, and cayenne pepper. Add in chicken breast and use your tongs to ensure they'll all be even be coated. Cover with cling film, then marinate in the fridge. I highly recommend a minimum of 1 hour. Take the chicken out of the fridge 30mins before needed to bring it close to room temp.
In a shallow dish, combine 1 3/4 cups flour with 2 tsp paprika, 1 tsp baking powder, salt and oregano, 1/2 tsp onion powder, garlic powder and cayenne pepper, and 1/4 tsp black pepper. One by one, dredge the breast through the flour, making sure you coat it entirely each time. Get in all the cracks and crevices of the chicken to create lots of craggy bits on the batter. Place to one side.
In a large pot or deep pan, heat up 3-4 cups oil to 180C/356F. Place in 2-3 chicken breasts and fry for 3-5 mins on each side or until deep golden and crunchy. The internal temp of the chicken should reach 165F (will continue cooking slightly as it rests). The temp of the oil will likely drop when the chicken starts frying, and that's fine, but make sure the chicken's internal temperature is 165 degrees. Carefully remove and rest on a wire rack or paper towel.
Serve: Take a toasted bun and put some garlic aioli on the bottom, then add crispy chicken, slaw, pickles, and top with the bun. Enjoy!
(Photo credit: Indi Hamption)