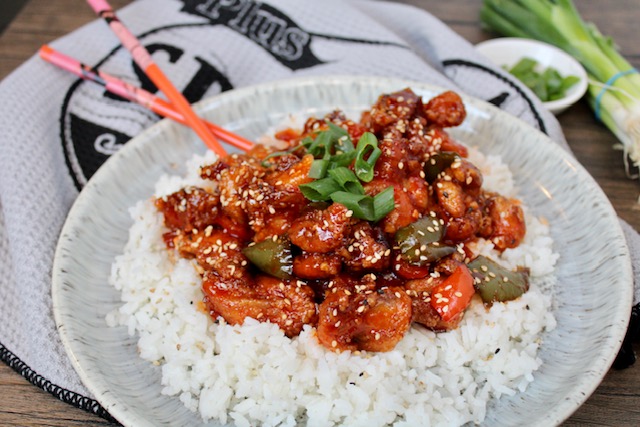 Spicy Honey Garlic Chicken
Who doesn't love chicken that is crispy, spicy, and sweet!  This recipe I created for "Springer Mountain Farms" will surely be a hit for date night or family dinner.  In this particular recipe, I pair it with steamed rice.  For those who are #glutenfree, you have to replace the soy sauce with coconut aminos and you are in for the win!
If you want to cut back on fried foods, you can also do this recipe in your #airfryer.  After step one, pre-heat your air fryer to 375 degrees, spray your air fryer basket with oil, and add your chicken; spray your chicken and cook for 5-7 mins, then turn and cook for another 5 mins.  (Chefnote: do this in batches, so you don't overcrowd the air fryer). Continue to step two and complete the cooking process.
To order Springer Mountain Farms "Chicken Thighs" click this link Boneless Skinless Thighs — Springer Mountain Farms
Grab your apron, and let's get cooking!
– Chef Mark Phillips
Spicy Honey Garlic Chicken
Yields: 4
Prep: 20 mins
Cook: 25 mins
Total: 45 mins
Ingredients
1.5 pounds of boneless chicken thigh (cut into bite-size pieces)
2 tbsp of Soy Sauce
1 tsp of Black Pepper
1 tsp of Garlic Powder
2 tbsp of Corn Flour/Corn Starch
8 cloves of Garlic Chopped
1 tbsp olive oil
2 tbsp of Korean Chilli Paste
3 tbsp of Honey
1 tbsp of Soy Sauce
2 tbsp of Water
1/4 cup diced red bell peppers
1/4 cup diced red onion
Marinate chicken with soy sauce, black pepper, garlic powder, and 2 tbsp of cornflour. Set aside for 1 hour.
Cover the chicken with cornflour. medium-high heat oil for 2-3 minutes or until golden brown. Optional but highly recommended, double fry for another 1-2 minutes after removing from the heat for extra crispiness.
In a pan add oil, peppers and onion and sauté of medium high heat for 2-3 minutes then add in Korean Chilli Paste, Honey, 1 tbsp of soy sauce, and 2 tbsp of water.
Turn the heat up to medium-low and mix till everything is thoroughly mixed well.
Add in garlic and mix for another 1-2 minutes.
Add in the chicken and make sure every piece of chicken is covered in the sauce.
Finish off with sesame seeds.