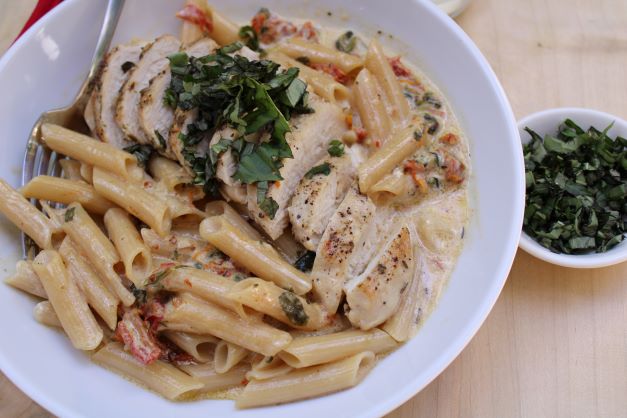 Creamy Sun-dried Tomato Basil Chicken Breast
Southern Temptation's & Springer Mountain Farms Chicken
I love #chicken and what I love even more is a company that produces chicken that is American Humane Certified™, Gluten-free, and that does not have added hormones.  I have partnered with Springer Mountain Farms Chicken (SMF) as an influencer to create some tasty recipes featuring their products! SMF (#mySMFchicken) has a variety of chicken products that you can find in most of your local grocery stores.
I used their "Chicken Breast" in a sun-dried tomato cream sauce for one of my first recipes.  This recipe is simple and cooked all in one skillet or cast iron that is oven safe. I paired this deliciousness with #gluten-free pasta; however, you can use regular pasta, mashed potatoes, or even rice.  For those of us who looking to keep things a bit more healthy, I recommend sauteing some extra spinach that you will have left over and serving with the chicken breast on top!
To find out which product I used and to find a store near you, visit Products — Springer Mountain Farms
I hope you enjoy my recipe just as much as I do.
Happy Cooking,
Chef Mark Phillips 
Creamy Sun-dried Tomato Basil Chicken Breast
Prep Time 15 minutes
Cook Time 30 minutes
Total Time 45 minutes
Servings 6 servings
Author: Chef Mark Phillips
Ingredients
2 tablespoons olive oil
3 large chicken breasts, approximately 1 ½ to 2 pounds
salt to taste
pepper to taste
2 cloves garlic minced
1/2 cup chicken broth
3/4 cup heavy cream
⅓ cup freshly grated parmesan cheese at room temperature
½ cup sun-dried tomatoes
1 cup rough chopped spinach
1 tablespoon herb de Provence
½ teaspoon red pepper flakes
basil chiffonaded, for garnish
Optional: Gluten-free Pasta (cooked accordingly to the package)
Instructions
Preheat oven to 375° Fahrenheit. Liberally season each chicken breast with salt, pepper and herb de Provence on both sides.
Heat olive oil in stainless steel skillet (or cast iron) over medium-high heat. When hot, add chicken to skillet. Sear 3 to 4 minutes, then flip and sear on other side 3 to 4 minutes.
Remove seared chicken from skillet and set aside. Add garlic to skillet and cook until fragrant, approximately 1 to 2 minutes.
Stir in broth and heavy cream, then slowly add grated parmesan, sun-dried tomatoes, oregano, red pepper flakes and spinach.
Bring mixture to simmer, then return chicken breasts to skillet. Quickly flip chicken a time or two to coat in sauce, then transfer the entire skillet to oven.
Bake 15 to 20 minutes, or until chicken reaches an internal temperature of 165° Fahrenheit.
Remove chicken from skillet and plate with desired sides (I choose gluten-free pasta). Spoon additional sauce from skillet over chicken, garnish with basil.