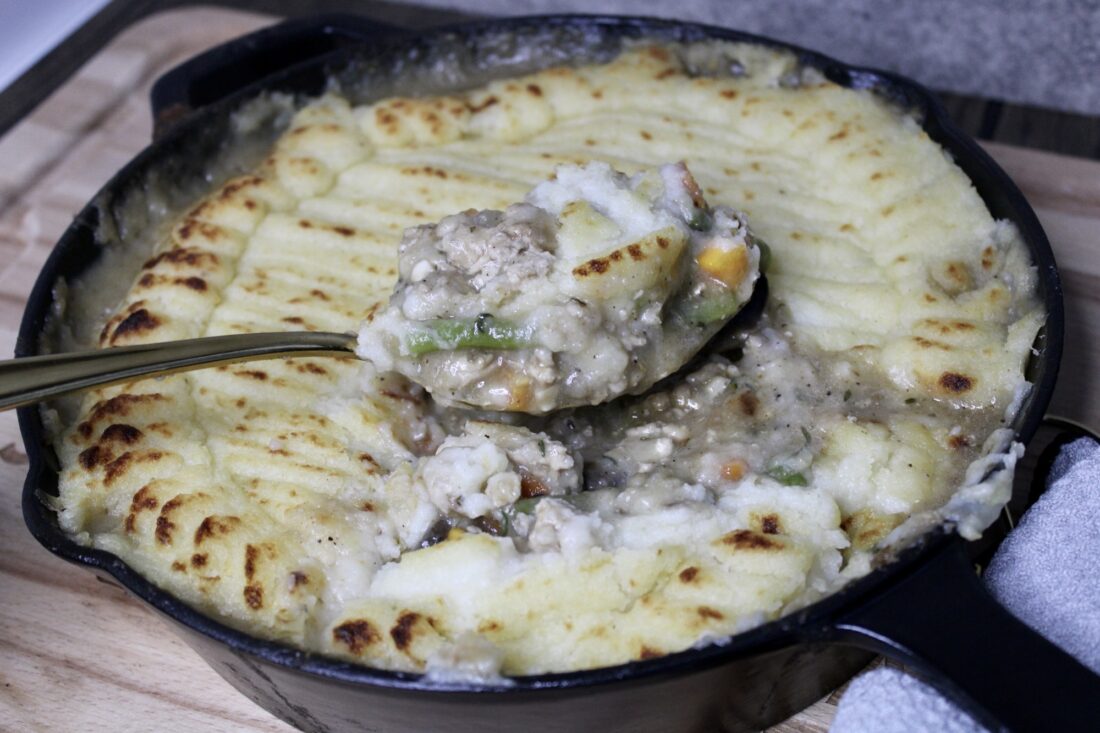 Easy Chicken & Mushroom Shepherd's Pie
Shepherd's pie originated in the 1700s in Ireland. During this time, money was tight for families. Housewives were left trying to use every bit of food they had. Nothing could go to waste when you weren't sure you'd have fresh food again. I decided to make my version of the comfort food classic and replace the beef with chicken.   I used Springer Mountain Farms ground chicken with mushrooms and other tasty vegetables.
This is one of those one-pot meals that, ideally, you would use leftover mashed potatoes on; however, you can also make them fresh for this recipe. Perfect when you are low on time but want something filling, especially on winter days.
Check out my recipe below for the list of ingredients and the step by steps instructions on how to create this wonderful dish.
– Chef Mark Phillips
Easy Chicken & Mushroom Shepherd's Pie
Servings: 4
Prep Time: 5 mins
Cook Time: 25 mins
Total Time: 30 mins
Ingredients
1 Tablespoon olive oil

¾ cup yellow onion, finely diced

2 cloves garlic, minced

1 lb. SMF Ground Chicken 

2 Tablespoons flour

½ teaspoon fresh thyme

1/2 teaspoon fresh rosemary 

1 cup chicken broth

Salt/Pepper

1/2 cup carrots, diced 

1/2 cup French green beans, chopped 

1/2 cup mushroom, large chop 

3 cups mashed potatoes, room temperature 
Instructions 
Prepare the Filling
Preheat oil in a large pan over medium-high heat. 

Add the diced mushrooms and onions.

 Saute for 3 minutes. 

Add the garlic 

and cook for 1 minute.

Increase heat to high. 

Add the ground chicken. 

Cook and crumbled until cooked through. 

Reduce heat to medium-high. 

Sprinkle in the flour

 and toss to coat. 

Add the rosemary and thyme

. Cook for 1-2 minutes.

Deglaze the pan with the 

Chicken broth

. Add carrots and green beans. Use a silicone spatula to scrape up any brown bits from the pan, this adds flavor to the fillin

g. Season with salt/pepper

. Taste and adjust seasoning as needed. Remove from heat.
Assemble
Transfer to a lightly greased 9-inch pie pan or 7 x 11 casserole dish. Carefully 

spread warm mashed potatoes on top.
Broil
Set the oven rack about 5 inches away from the broiler. Set to a high broil, 550 degrees.

Broil for about 5 minutes 

watch it after 2 minutes,

 it will go from perfectly browned to burned quickly.

Remove from heat and serve.