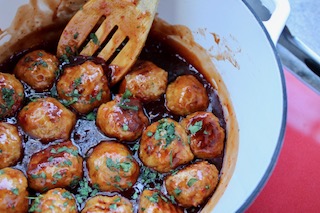 BBQ Sweet Chili Chicken Meatballs
Whether you want to bring something tasty and fun to a potluck event or add a new appetizer to your holiday menu. My BBQ Sweet Chili Chicken Meat balls are a great alternative to traditional beef meatballs and are full of flavor. Springer Mountain Farms ground chicken is what I used. Here is the link to their products Products — Springer Mountain Farms
Have fun cooking and entertaining!
Chef Mark Phillips 
BBQ Sweet Chili Chicken Meatballs 
Prep: 15 mins
Cook: 15 mins
Total: 30 mins
4-5 servings 
Ingredients: 
1 lb ground chicken
1 tsp garlic powder
1 tsp onion powder
1/2 tsp salt
1/2 tsp ground black pepper
3/4 tbsp Worcestershire
1 tbsp Olive oil more for pan frying
1/3 cup + 2 tbsp breadcrumbs (I used #glutenfree) 
1 egg, whisked
1/2 cup BBQ sauce
1/4 cup sweet chili sauce
Garnish: green onion, chopped
INSTRUCTIONS
1.      Preheat oven to 425F and prepare a greased baking sheet.
2.      In a large bowl, combine ground chicken, garlic powder, onion powder, salt, pepper, Worcestershire, one tablespoon of olive oil, breadcrumbs, and egg. Mix to combine.
3.      Roll the ground chicken mixture into small meatballs. This recipe makes about 15 meatballs.
4.      Place each meatball on the baking sheet and bake at 425F for 15 minutes. After the timer is up, an option to pan fry for a crispy edge in olive oil or other cooking oil over medium-high heat.
5.      After crispy edges are obtained, pour in half a cup of BBQ sauce and 1/4 cup of sweet chili sauce and toss to coat.
6.      Garnish with parsley and serve.