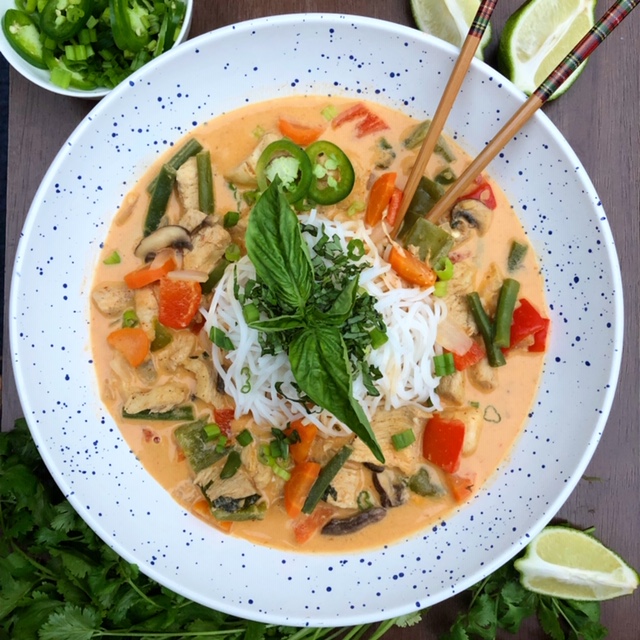 Thai Coconut Curry Chicken Soup
I have a fixation for ASIAN food! I remember the 1st memorable moment when I feel in love with Thai coconut curry soup.  I was in my early twenties and I was at lunch my boss "Gloria" from when I was working for a cruise line call center (pre-chef life). The flavors exploded in my mouth and I was instantly hooked.  Over the years I developed my own recipe for Thai Coconut Curry Soup and I am happy to share with you below…. put your apron on and enjoy!
Chef Mark P.
Thai Coconut Curry Chicken Soup
Prep Time :5 minutes
Cook Time :12 minutes
Yield : 4 servings
Ingredients
3 Chicken breast
1/2 teaspoon 5 spice
2-3 Tablespoon Thai red curry paste
1 Tablespoon Coconut Oil
1 Tablespoon diced Ginger
2 Teaspoon Garlic
1/2 chopped Onion
1 Red bell pepper large dice
1 Green bell pepper large dice
1 Carrot sliced
1/2 cup chopped fresh green beans
1/2 cup sliced mushrooms
1 1/2 Tablespoon brown sugar
3 cans Coconut milk
Fresh basil leaves – A handful
Sliced jalapeño & chopped green onions (optional)
Instructions
Cut the chicken breast into thin strips and season with 5 spice, salt and pepper, set aside.
Have all your vegetables ready. Minced the garlic. Set aside.
In a medium to large non stick pan, heat up the oil on medium high and add the chicken, cook for 2 minutes just to get a nice sear on them but not fully cooked. Add the ginger, garlic and the vegetables and fry for another minute, add the Thai red curry paste and sugar. After 1 minute, add the coconut milk. Taste and adjust if needed. If it's a bit thick you can add water or chicken broth. If you want it to be a bit spicier add more red curry paste. Turn off the fire and add the basil leaves. Serve with rice noodles and garnish with jalapeños and green onions.
** NOTE: To make this a completely vegan dish replace the chicken with cubed boiled or steam sweet potatoes. You would add the potatoes in with the coconut milk and add a extra 10 minutes to simmer on low***