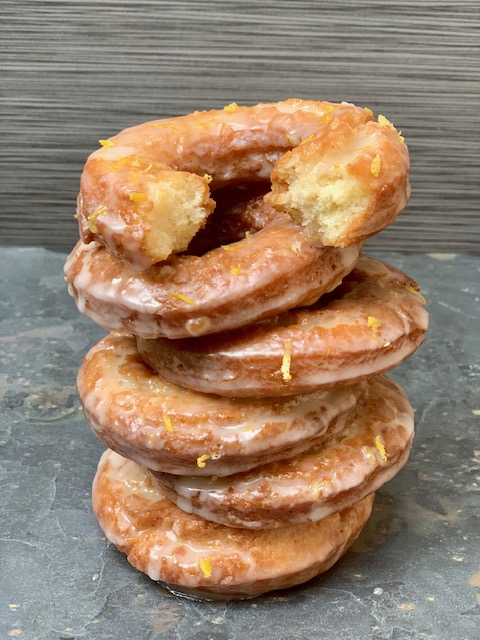 Orange & Lemon Zest Sour Cream Donuts
There is much debate as to where the origin of "donuts" began; some say it was dated back to the Greek and Romans however after some research the word "doughnut" originated in northern England around 1750.  I was born and raised in Winston-  Salem, NC as a kid I would walk up the street to the "Krispy Kreme" factory where the (and probably still is) mass production of the dough was made. I would say this was the beginning of my love for donuts.  The recipe below is a yeast-less donut that has a bit more density, light crunch, cakey inside and dipped in a citrus zest glaze.  Its important not to skip the frying step in the recipe as baking will have a completely different outcome that I am not responsible for LOL.  If you have children this is something fun to get them involved in but overall this tasty donut is sure to be a hit and perfect for your sweet tooth during this Covid-19 #StayHome time-frame.  I hope you enjoy these decadent delights just as much as I do!!!
Happy Eating
Chef Mark P.
Orange & Lemon Zest Sour Cream Donuts
Prep Time: 15 minutes
Cook Time: 25 minutes
Total Time: 2 hours
Yields: 10 doughnuts
Ingredients
For the donuts:
1 1/4 cup cake flour
1 cup all-purpose flour
1 1/2 teaspoons baking powder
1 teaspoon salt
1/4 teaspoon ground nutmeg
1/2 cup sugar
2 tablespoons salted butter, at room temperature
2 large egg yolks
1/2 cup sour cream
Canola oil, for frying
For the glaze:
3 cups powdered sugar, sifted
1 teaspoons corn syrup
1/4 teaspoon salt
1/2 teaspoon vanilla extract
1/4 orange and lemon zest combined (optional)
1/3 cup hot water
Directions
For the donuts:
1. In a bowl, sift together the cake & AP flour, baking powder, salt, and nutmeg.
In the bowl of a stand mixer fitted with a paddle attachment, beat the butter and sugar together until sandy. Add the egg yolks and mix until light and thick. Add the dry ingredients to the mixing bowl in 3 additions, alternating with the sour cream, ending with the flour mixture. The dough will be sticky. Cover with plastic wrap and chill for 1 hour.
2. On a floured surface, roll out the dough to about 1/2 inch thickness. Use a doughnut cutter or I used a biscuit cutters and a tall two ounce shot glass to cut (lol don't tell no one) , dipping the cutters into flour as necessary to prevent sticking. You should get about 10 doughnuts and holes.
3. Pour 2 inches of canola oil into a heavy bottomed pot with a deep-fry thermometer (if not deep-fry thermometer put the heat on medium to medium high: test donut holes to desired golden brown). Heat to 325°F. Fry the doughnuts a few at a time, being careful not to overcrowd the pot. Fry on each side about 2 minutes, being careful not to let them burn. Let drain on a paper bag to soak up the excess grease.
For the glaze:
Mix all ingredients in a bowl with a whisk until smooth. Immerse each doughnut into the glaze. Place on a wire rack above a sheet pan to catch any excess glaze or on parchment paper if you do not have a wire rack. Let sit for 20 minutes until glaze is set. Doughnuts are best served the day they are made but may be store in an air tight container at room temperature for a few days.
Mmmmmm…doughnuts. – Homer Simpson