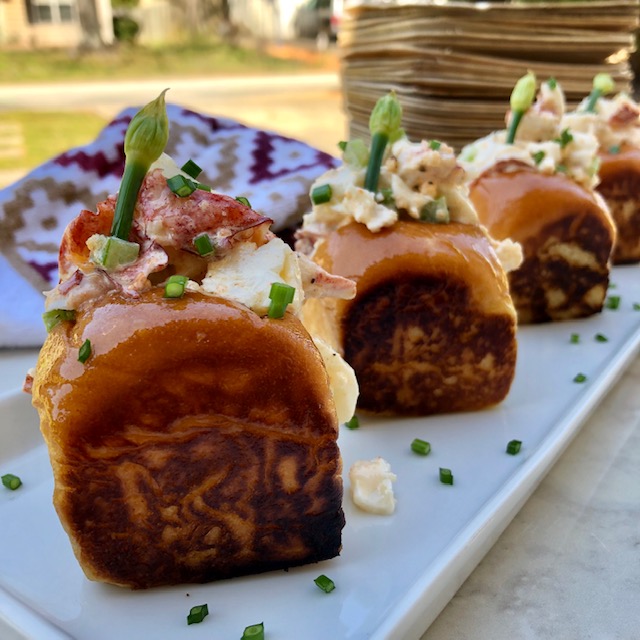 Mini Lobster Roll's
After I graduated college I went to Maine with my uncle for the first time. It was there that I experience my 1st true authentic "Lobster Roll" the meat was so fresh, the buttery roll toasted to perfection and the lemon mayo was perfect.  Ever since then I make it a point to try a lobster roll at different restaurants along my travels.  I have created my own version below that will be sure to satisfy you LOBSTER craving and these little babies are great for the spring and summer.  Make these for your next party; its sure to be a hit!
Happy Eating!
Mini Lobster Rolls
Serves 6
Ingredients:
1/2 cup finely diced celery
2 tbsp fresh lemon juice
1/3 cup mayonnaise
1/4 tsp white pepper
1/4 tsp salt salt
1/4 tsp onion powder
dash of cayenne pepper
1 tablespoon chopped green onion
4 packed cups cooked and cleaned lobster meat (from about 3 1 1/2 lb lobsters), cut into bite-sized chunks
6 top split Hawaiian Sweet Rolls (top split)
3 tablespoons salted butter, melted
Directions:
Place the celery, lemon juice, mayo, white pepper, salt, onion powder, cayenne pepper and green onions in a bowl and whisk to combine. Gently fold in the lobster meat. Wrap and chill until ready to serve. It will stay good, wrapped tightly in the fridge, for about two days tops.
Toast the sweet rolls buns for about one minute, so they are lightly golden ad crisped, but still soft. Brush a little bit of melted butter in each bun. Mix the chilled lobster salad well. Top each buttered bun with a generous amount of lobster and serve immediately.
"When I get a chance to play golf or go on a boat with good people, take the boat out and put some lobsters on the grill, get the ice-cold beer and the cigars – that's heaven here on earth."
Bernie Mac