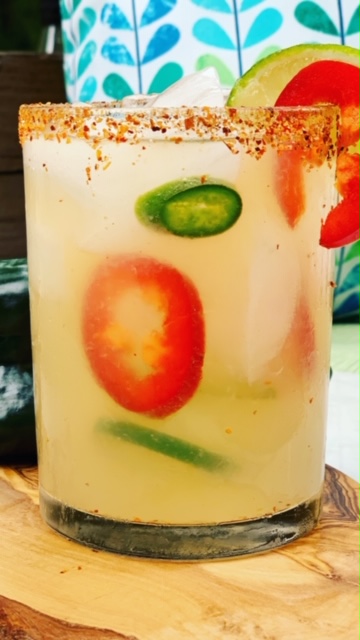 Grapefruit & Jalapeno Margarita
This grapefruit & jalapeno margarita is a great twist on the classic margarita!  All the fresh ingredients make it refreshing and balances well with the sliver tequila.  The brand of tequila is not important, however the quality is; if you don't want a hangover.  As long as it 100% agave and not cheap; the FDA standard I believe is only 51% then you should be good.
The true secret to a really spicy margarita is to either: A. make a simple syrup with muddled jalapenos or B. infuse the tequila over night. Simple syrup is very easy to make, ingredients are sugar and water with equal parts of both. Agave is a good replacement for simple syrup when you are trying to cut back on the sugar.  If you have the time its best to do the syrup or the infused tequila 24 hours in advance however 30 minutes prior will suffice. I hope this drink helps your "Taco Tuesday" even better than it already is…. Happy Cinco de Mayo!
Cheers – Chef Mark Phillips
Grapefruit & Jalapeño Margarita
Ingredients
2 fl. oz. tequila
2 fl. oz. grapefruit juice
2 fl. oz. lime juice
2 jalapeño slices + more for serving
1 fl. oz. simple syrup
1 to 2 cups of ice
Tajin
Instructions
Place tequila in a shaker/jar. Then, add in a couple of slices of jalapeños plus the seeds. Use instantly or let sit for at least 30 minutes so that the tequila can get infused with the spice.
Add 1 to 2 cups of ice to a cocktail shaker and then pour in the infused tequila. Add the rest of the ingredients. Option to add more simple syrup, depending on your preference.
Give the shaker a good shake so that everything gets mixed together.
Serve over ice with fresh grapefruit slices, jalapeño slices, and a salty rim or Tajin.