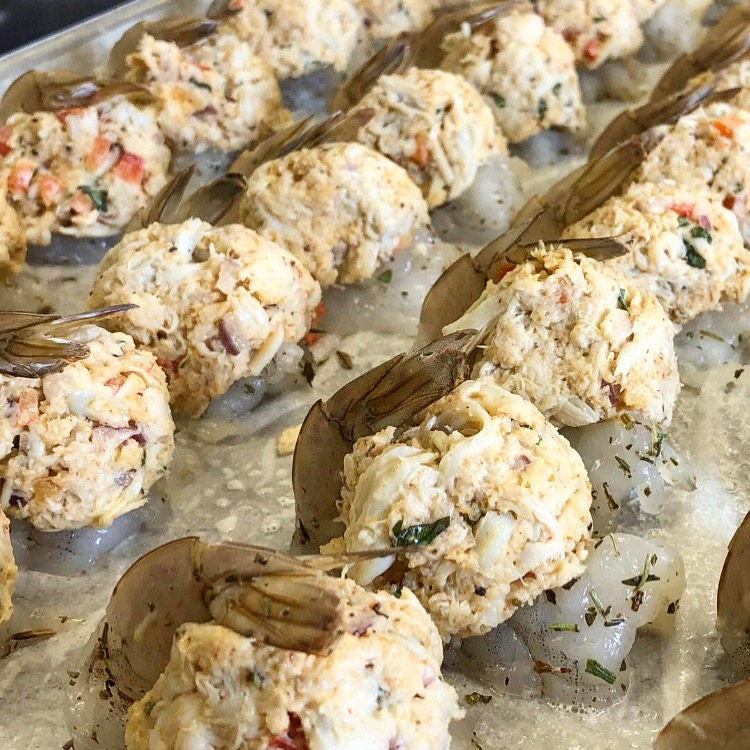 Crab Stuffed Shrimp
What's better "Crab or Shrimp"?  Why not both in the same recipe!  This is one of my favorite items to prepare whether that be with surf and turf or a party appetizer. These two shell fish compliment each other very well with out competing for attention.  I like to use fresh herbs and spices to bring out the textures and with this particular recipe it is great for those people who cannot have eggs.  To make this recipe completely #dairyfree replace the unsalted butter with a plant based spread and no one will never know the difference.  I hope you enjoy this dish just as much as I do!
Chef Mark P.
Crab Stuffed Shrimp
Ingredients:
12 oz lump crab meat
1/4 cup dry panko bread crumbs
2 tbsp salted butter
1 tsp chopped basil
2 tsp chopped onion
2 tsp chopped red bell pepper
1/4 tsp lemon juice
1 tbsp vegan mayo
¼ tsp old bay season
¼ tsp garlic powder
¼ tsp black pepper
1- 2 tbsp Herbes de Provence (HP)
16 – 20 jumbo shrimp, raw, deveined, shelled with tails on
Spray Olive oil
Directions:
Preheat oven to 425° F.
In a bowl mix crab, bread crumbs, melted butter, basil, lemon juice, onion, bell pepper and spices (Except HP) ; set aside.
Spray a baking sheet with non-stick cooking spray. Wash, devein shrimp and pat dry.
Use a sharp knife to cut a 1/2″ deep pocket in inner curved side of shrimp from tail along center, leaving 1/2″ at end. Do not cut through back of shrimp. Use finger to widen pocket and these season with Herbes de Provence.
Use about 2-1/2 tablespoons crab mixture per shrimp. Place shrimp on baking sheet. Repeat, preparing all shrimp. Spray shrimp with olive oil. Bake for 10-12 minutes. Do not overcook. Server with you favorite dipping sauce or enjoy as is.
This recipe is perfect for party appetizers, a main protein for entrée or just a snack for you and that special someone.