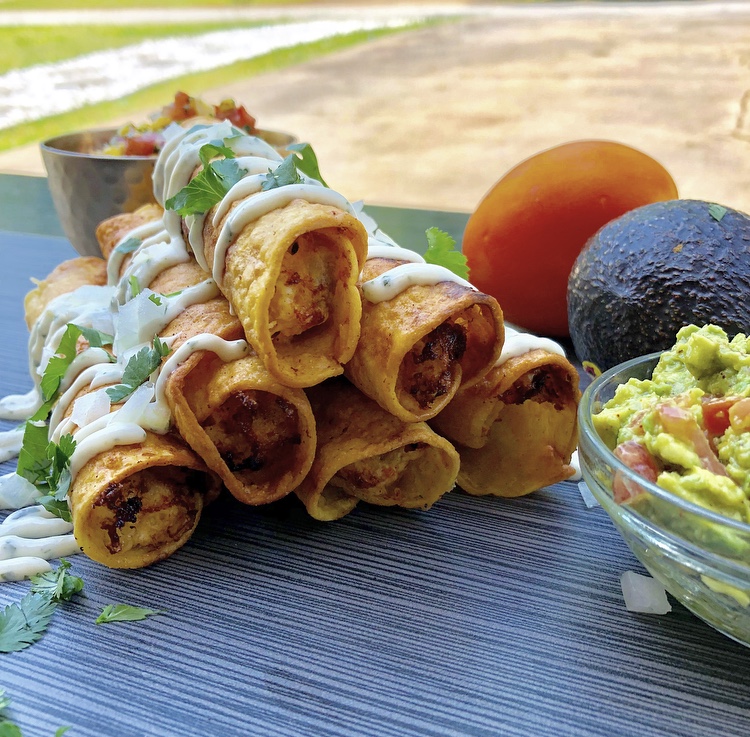 Cinco de Mayo "Chicken Taquitos"
In honor of "Cinco de Mayo" this year I wanted to share one of my favorite Mexican dishes "Taquitos". You may ask yourself "What are Taquitos?" A Mexican dish consisting of a small tortilla that is rolled around a filling of meat and cheese and then deep-fried. Tacos are usually folded, and these taquitos (aka Flautas) are rolled. In this particular recipe I used cream cheese inside the filling to give that extra creamy taste. This recipe can be #gluten-free if using corn tortillas but if using flour tortillas you will have a more fully texture rather than crispy. These can be made a head of time; the cream cheese and chicken mix freezes well. I just place in freezer-safe Ziploc bags and get as much air out. They day I'm ready to make them, I just pull them from the freezer and let them thaw completely, which is perfect for those super busy days. Taquitos are great for dinner parties with friends and family!
(You can also bake the taquitos see my note at the end of the recipe)
Happy Eating!
Chicken Taquitos
Prep Time 5 minutes
Cook Time 10 minutes
Total Time 15 minutes
Ingredients
3 cups chicken cooked and shredded
6 oz cream cheese softened (Optional)
1/3 cup sour cream
1/2 cup Mexican shredded cheese blend
1/4 cup green onion
1/4 cup chopped white onion
1/3 cup chopped red bell pepper
12 6 inch corn tortillas
vegetable or canola oil for frying
Directions
1. Heat ½" oil in a sauce pan on medium heat.
2. In a large bowl mix together the chicken, cream cheese, sour cream, onion, shredded cheese and peppers. Add salt and pepper to taste.
Once oil is hot enough (place hand over pan, above oil, to feel heat), add a few tablespoons of chicken/cream cheese mixture to the center of a tortilla and spread out. Roll up and set seam side down in oil using tongs. Cook until golden brown on both sides.
4. Repeat until all the tortillas are filled, rolled and fried. Set on paper towels to drain.
5. Serve warm and ENJOY!
Baking Note: Pre-heat oven to 350 degrees. Place seamed side down in a lightly greased 9×13 baking dish. Repeat with the remaining tortillas. Bake at 350 for 30 minutes. Serve immediately and enjoy!
History Lesson!!!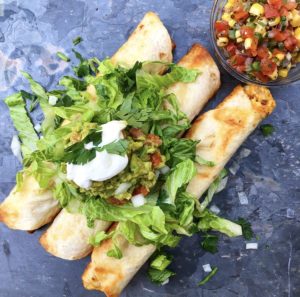 "Flautas" is Spanish for "flutes." If you've ever had this cuisine at a Mexican restaurant, you'll immediately understand why.
Flautas are made from tortillas (usually flour) that are filled and then rolled up and fried. The result: a long, thin, flute-shaped roll that's extra-crispy and bursting with a savory, spiced filling.
Flautas are often called "taquitos," "tacos dorados," and vice-versa. Are they the same things, though?
Not exactly!
The main differences don't have to do with flavor, but rather with size and shape. Often, a true flauta will be longer and thinner than a taquito because they're made from larger tortillas. Taquitos are usually shorter, and may even be flatter because of the way they're rolled.
Happy Eating – Chef Mark Phillips