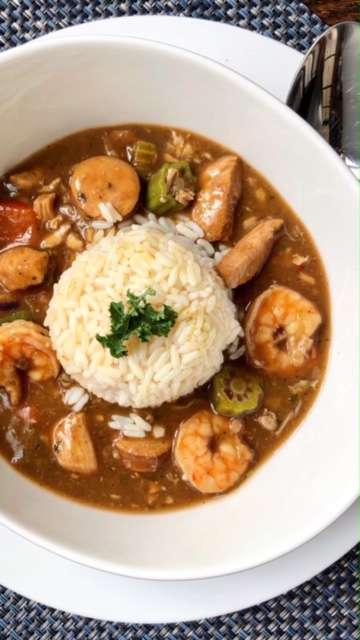 Chicken, Sausage & Seafood Gumbo
I remember when I would never eat gumbo mainly not due to taste but to looks; however as I expended my palate and cooking skills I became to love it.  Gumbo originated in Louisiana more specifically New Orleans. Their culture spills over into most all of their food as well as every day living. If you ever get the chance I would recommend traveling to New Orleans and experience the authenticity for yourself.  Below is my take on gumbo; grab your heavy stock pot, your cutting board and a good glass of whatever libation you enjoy!
Happy Eating!
Chicken, Sausage & Seafood Gumbo
Prep Time 30 minutes
Cook Time 1 hour 20 minutes
Total Time 1 hour 50 minutes
Servings 8- 10
Ingredients
¼ cup canola oil
1-1 ½ pounds chicken skinless chicken thigh
6-8 oz smoked sausage (pork or chicken)
3-4 tablespoon olive oil
½ cup flour
1 medium onion diced
2 teaspoons minced garlic
1 medium green bell pepper diced
1 cup chopped celery
½ cup lump crab (or crab legs)
1 tablespoon Cajun seasoning
1 tablespoon thyme fresh
2 bay leaves
6-7 cups chicken stock (sub with water)
1 pound shrimp (peeled and deveined)
1 tablespoon gumbo file
2 green onions , chopped (optional garnish)
¼ cup chopped parsley (optional garnish)
Instructions
Lightly season the chicken with salt and pepper. Heat the oil over medium heat in a heavy bottomed pot; the chicken until browned on both sides and remove. Add the sausage and cook until browned, and then remove. Set aside.
In a large Dutch oven or heavy bottomed saucepan combine olive oil and flour until smooth.
Cook on medium heat, stirring continuously, for about 20 minutes or until it turns a rich medium -dark brown color. (Side Note: Don't walk away from the stove during this process. It might burn.) Remove from stove and let it cool.
Return the Dutch oven back on the stove. Add the onion, garlic, green pepper and celery and cook for 8- 10 minutes –stirring frequently.
Then add gumbo file, chicken, sausage, crab, Cajun seasoning, thyme, bay leaves and let it cook for 5 minutes. Add chicken stock a little at a time until evenly incorporated. Bring to a boil and let it simmer for about 45 – 50 minutes. Add the shrimp, simmer for 5 more minutes.
Garnish with green onions and chopped parsley.
(Side Note: Adjust thickness soup and flavor with broth or water and salt)