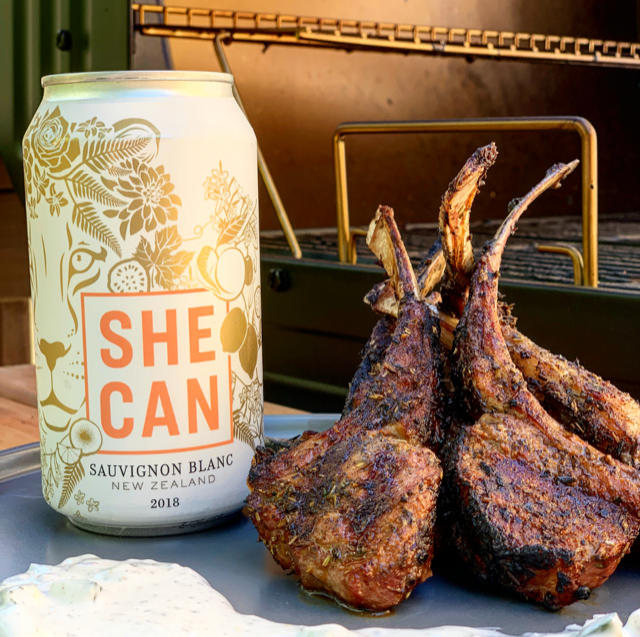 3 Herb Lemon & Garlic Lamb Lollipop's
As we approach this "Memorial Day" weekend I figured why not share one of my holiday grilling favorites.  Its something nostalgic about gathering together with family and friends by the grill with a refreshing adult beverage; enjoying each others company.  With summer upon us, there is no better time to break out the grill (especially since most of us are quarantine #athome).  Lamb can be marinated various ways, however this particular recipe packs a lot of fresh flavor without competing with the natural mild game taste of the lamb.
Traditionally "red meat" is paired with red wine, but because most of us are in warm/hot climates I figured why not switch things up.  McBride Sisters has a great selection of wine and their "Sauvignon Blanc" is one of my favorites. The sisters have created wine in the can entitled, "SheCan" which is convenient especially standing over a  hot grill.  I am so happy to have been partnering with them over the years and I love that they are a black and woman own business. This recipe is super simple and easy to cook, with that said get your grocery list together and lets get cooking!
Happy Eating!
-Chef Mark P.
3 Herb Lemon & Garlic Lamb Lollipops
Ingredients: 
8 lamb chops Depending on their size, serve 1-2 per person
2 tbsp olive oil
juice of 1 lemon, approximately 3 tablespoon
2-3 tsp dried oregan
2-3 tsp chopped fresh rosemary
1 tsp chilli/red pepper flakes
2 tsp fresh thyme leaves
4 garlic cloves crushed
1 tsp salt
1/2 tsp pepper
Directions:
1. Pre-heat a grill.
2. Drizzle the lamb chops with the olive oil and lemon juice then generously season with the herbs and spices on both sides.
3. Grill for 5-6 minutes on each side for Medium Rare, 7-8 minutes on each side for Medium and 10-11 minutes on each side.
4. Remove from the grill and allow to rest for a few minutes before serving with lemon wedges.